Well... This page is rather new, and since World Youth Day hasn't really happend yet, please feel free to check back often so that you can get the inside scoop of WYD 2002 in Toronto Ontario Canada. I will have pictures and stories by people who have been there including myself!!!!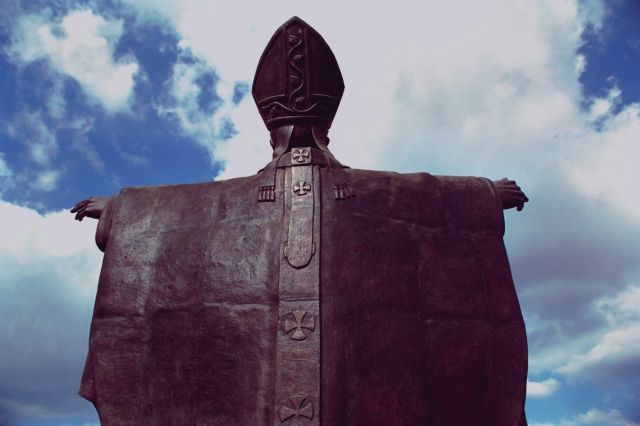 Well my Camera was stolen. But the experience was an interesting one that I will never forget. The group I went with from Sacred Heart Parish, consisted of all of the churches in the city. Total number of people was around 30 or so. It was such a large group that it was hard to get to know them all. I did get to know the youth at my own parish, Our Lady of Mercy. We became pretty good friends, well three of us did. Joe Stoesser, Christian Villemaire and myself caused some raucous, well Joe and I did. We tended to stray off from the group and do our own thing which proved to be better for us anyway. The group wasn't really there for spiritual reasons, but God works in mysterious ways. There was rain, thousands of people, and long lines for the toilets. I wouldn't trade anything for my life especially after the look I got at the Holy Father on the day my camera was stolen. He looked right at me, winked and smiled at me. I was filled with so many emotions, but I couldn't cry due to the dehydration I had felt from waiting 8 hours in the direct sun to make sure I got a seat right near the fence that divided myself from him. His gaze at me made everything so worth while. I really wish I had pictures to share, but all I can share is my experience. I met alot of wonderful young people aswell as Religious who were very thrilled to be a Religious. These people showed me that there is happiness in Religious life and thus made me continue to pursue my vocation. The experience of World Youth Day in Toronto has also changed Toronto in some way. I don't know how, since I am new to Toronto, but I have heard it from so many people who have approached me because of my wearing my WYD backpack. It's also good to see that alot of people are still using these bags too.
WYD was an unexpected thing. I was called up to give a chat about my last WYD experience in France, and soon I was invited to go, with expenses paid. This was definately God calling me to go, since I had no money as I was starting a new job at that time. God's Grace abounds for all who ask!!!
PAX